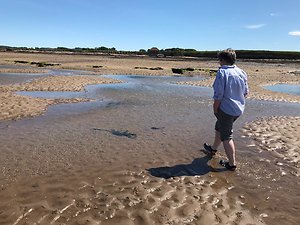 Counselling, Psychotherapy & Supervision in Edinburgh
"....and the day came when the risk to remain tight in a bud
was more painful than the risk it took to blossom."
- Anais Nin


Hello and welcome to my website.
I know that emotions can be painful and challenging, to the point where they interfere with our enjoyment of life, or we use up a lot of energy trying to avoid them. I believe our emotions are natural, and waiting to be expressed. Too often it is our past experience of them that has lead us to perceive our emotions as scary. In fact, when we feel them safely, they are full of healing potential.

My name is Helen and I have been a practising Counsellor & Psychotherapist in Central Edinburgh for the past 12 years. I offer a collaborative relationship, working hard to understand what people want from counselling, so that I can offer the support they need. I work with adults and young people (16yrs+) on a short or long term basis, with the aim of enabling you to understand your problems for yourself.

I hope that through our work together you will find a way to accept and value yourself as you come to understand yourself more. Welcoming your good, bad and ugly emotions without judgement; becoming your authentic, wonderfully imperfect self.

My original training is person centred psychotherapy and counselling. As a therapist I have gained knowledge and experience working in the voluntary sector and private practice, including associate work with EAP clients. I am also a supervisor and since 2017 I have been a professional development mentor for Edinburgh University School of Counselling and Psychotherapy. Prior to training as a therapist I worked in the voluntary mental health sector in Central Edinburgh, 15 years of which were in a management role.

I am experienced in working with people who experienced difficulties with:

Mental health issues, including depression and anxiety
Low self esteem and low self confidence
Drug and/or Alcohol Addiction
Lesbian, Gay, Bisexual and/or transgender
Gender issues
Relationship issues
Abuse - sexual, physical, emotional & financial
Bereavement, grief & loss
Work related stress
Adoption
Physical ill health

If you are a therapist in Edinburgh looking for supervision , please check out my supervision page.

Practice Location

My practice is located at 3 Walker Street, EDINBURGH, EH3 7JY within easy reach from the West End, HayMarket, Bruntsfield, Marchmont, Leith, Corstorphine, Stockbridge and Morningside.